---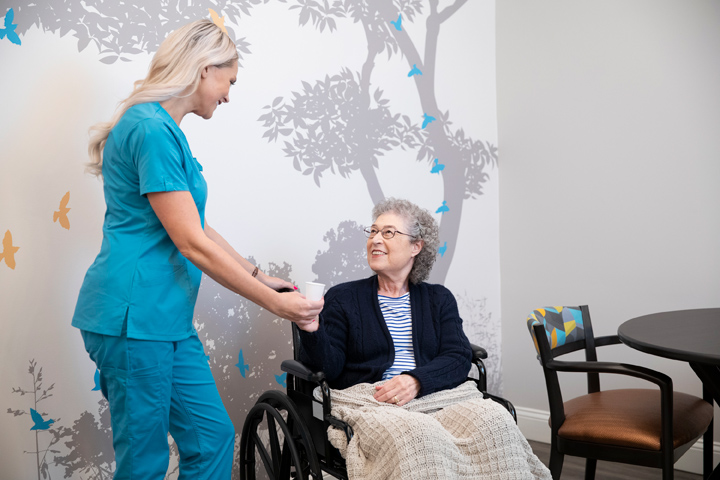 Caring for our Seniors isn't just business – It's personal
Guardian and our pharmacy partners understand that we play an important role in the success of your community. We maintain the highest level of service and sensitivity required to meet the individualized needs of your residents. And above all, we join you in your focus to support resident safety and quality care.
Improved Efficiencies – Guardian Pharmacy supports communities by helping create efficiencies throughout every facet of your operations. The result: caregivers spend less time on administrative duties and have more time to spend on resident comfort and safety.
Access to a dedicated team committed to ensuring your residents and staff are well supported. Who is on my team? Your team includes an order entry technician, billing specialist, pharmacist, pharmacist/nurse consultant, pharmacy tech and customer service specialists.
Regulatory Compliance – Ongoing reviews increase patient safety, reduce cost, and ensure compliance. Guardian minimizes risk of adverse reactions and ensures only necessary medications are taken. Consulting pharmacists provide regular chart reviews of all medication orders to monitor for.
Transition services that simplify the process of switching pharmacy partners – As we welcome new facilities, we go to great lengths to make the process as smooth as possible, doing everything in our power to make it a hassle-free, turnkey experience.

We use highly refined, efficient processes and techniques for collection and transfer of data.
Our consulting pharmacists ensure your staff are fully trained.
If needed, a trained medical professional will come to your facility, transfer existing orders to valid prescription forms, fax those forms to physicians for signature, set up monthly filling cycles for each resident, and prepare new medical administration records.

Educational Services – Well-educated caregivers make fewer mistakes and provide an increased level of resident care. They are more confident and feel better about their job, which translates into reduced staff turnover.
Competitive Edge
Brand & Reputation – We have an established reputation of excellence in the industry nationally and locally.
Our Team – We have some of the most knowledgeable and experienced LTC professionals in the business. Our clinical team is strong and looking forward to working with all of you.
Local Ownership and Management – We live in the communities we work. We know and understand the current economic/financial/political issues facing our industries and your communities and can respond at a local level but with the added advantage of having national support with volume drug procurement and clinical support.
Technology Support – We can integrate with most electronic medication administration record (eMAR) and electronic health record (EHR) platforms.
Experienced Data Analytics – We have a dedicated team of professionals able to provide a comprehensive analysis of facility drug utilization and cost management.
Clinical Services – Every month, our consultant pharmacists work onsite in nursing facilities where they review charts for each resident, inspect nursing units, review narcotic documentation (and/or assist with destruction), conduct med pass observations and develop medication trend analysis reports for individuals and the facility. As follow up to the review and analysis, pharmacists make clinical recommendations to physicians and facility nursing staff. Our pharmacists may also participate in facility committees, state pre-surveys, problem-solving situations, and system development. The focus of monthly onsite pharmacy support is resident safety, and onsite clinical services comply with or exceed all state and federal regulations.
Additional services include:
24/7 access to one of our local pharmacists
Specialized medication packaging
Bar coding technology
Pharmacist/nurse consulting services
Up-to-date medication administration records (MAR) and option for eMARs
Emergency kits
STAT deliveries
Medication return processing
Medication cart programs
Itemized invoices and local dedicated billing team
Valuable cost reports, breaking out costs by patient and by drug, as well returns recaps, listing of residents who are "donut hole" pending etc.
---
Ask Us About
Clinical Services – Insurance Optimizer Program – Pharmacy Transition – Therapeutic Interchange Program